Indoor inflatable playground are fun for kids, that is one thing that is very obvious. But throwing toys around the house and pouring syrup on the dog can also be fun for kids. Just because your child thinks something is fun doesn't mean it is a good option for them! But indoor inflatable bouncy playgrounds offer many benefits that make them a great choice over allowing your children to take part in some of the other activities they may find fun.
At Jumpin' Jamboree in Doral, we can provide your child with endless hours of fun, plus a variety of other benefits! So take that syrup out our your child's hand and take them to our indoor playground instead. You and your children will love all that we have to offer.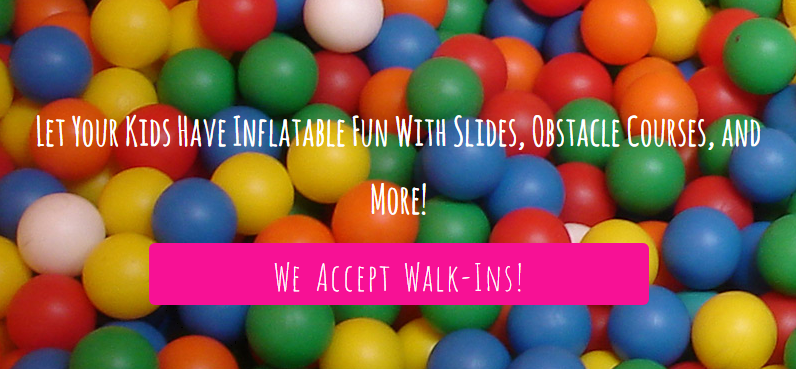 In this blog, we are going to talk about some of the benefits that indoor inflatable playground has to offer. Read on to learn more and contact us with any questions you may have!
Active Play
When you bring your child to Jumpin' Jamboree in Doral, they will be able to take part in active play for hours. Active play is great for kids because it helps to use up some of that pent-up energy and keeps them moving! Nowadays, kids often end up sitting on the couch for a majority of their day, especially during the summer. TV, video games, and smartphones can keep your kids entertained for hours, but they are not moving nor using energy, which can quickly become a problem.
Instead of watching your kiddos waste their summer sitting on the couch, get them up and moving at Jumpin' Jamboree! Our facility features thousands of feet of inflatables including slides, obstacle courses, bouncy houses, and more. Your child will be able to run, jump, and hop until they drop!
Supervised Fun
Sometimes it can be hard to make your child go outside to play or go to the park when you are not there to supervise. Whether you get distracted with your own housework or you have to check some work emails, it can be hard for parents to justify making their kids go outside to play on their own. Even if you plan on kicking them outside to play once you are done and can head out with them, this is not always what happens, which leads to your kiddos spending the entire day inside on their devices.

Instead, bring your kiddo to Jumpin' Jamboree! We always have members of our staff supervising the play area to ensure all the little bouncers are safe and having fun. Now, this does not mean you can simply leave, but you can check an email or two while your kiddos are playing because there will be a few extra sets of eyes on them! You can feel more confident that your children will remain safe when you bring them to Jumpin' Jamboree.
Great For All Ages
Some kids' activities are better for younger children while other activities are better for older kiddos. For example, while farms may be fun and exciting for young children, your older kiddos may be extremely bored at the farm. When you have children that range in age and interests, you may have a hard time finding an activity that is fun for everyone. This doesn't have to be the case you bring your kiddos to Jumpin' Jamboree!
Our indoor inflatable playground is a fun place to bring kids of all ages. No matter how old your kiddo is or what they are interested in, they will enjoy jumping and bouncing through our inflatable playground. We even have a soft play area for toddlers, meaning that even your youngest child will be able to enjoy playing at Jumpin' Jamboree. If your child is not as excited about the inflatables, they may be entertained by our arcade games! We really have something for every child.
Indoor Playground
In Doral, rain and thunderstorms are common. This can be frustrating for parents when they want their kids to get out of the house. Planning around the rain leaves your options limited and not planning for the rain can ruin your exciting plans. Any activities outdoors can be iffy and may leave you stranded inside. But when you choose an indoor activity or playground, you don't have to worry about how the weather will affect you!

When you choose Jumpin' Jamboree in Doral, your kids can have fun and play for hours whether it is raining or not! The weather will not affect the fun, which makes indoor playgrounds a great choice when rain could hit at any moment. You will be able to get your kiddos out of the house and they can play inside even when the weather isn't cooperating.
Variety of Options
Not only is Jumpin' Jamboree a great place for kids to play, but we also offer a variety of options for you. From walk-in options to birthday parties, we can provide you and your kiddos with endless amounts of fun. We even offer group rates for field trips, clubs, summer camps, and more! If you find yourself at Jumpin' Jamboree often, you can even sign up for our family membership to help you save money and allow your children to have endless hours of play.
One of our favorite options is our birthday parties! Jumpin' Jamboree is the perfect party place for your kiddo. This is a unique place to host a birthday party and allows for your child and all of their friends to stay busy and excited throughout the party. Our party packages help make your child's birthday as simple as possible for you, from set up to clean up!
When you are struggling to find something fun for your children to do on the weekend or throughout the summer, just keep Jumpin' Jamboree in mind! There are a ton of different benefits to bringing your child to our indoor inflatable playground, from keeping them active to avoiding bad weather and more.
At Jumpin' Jamboree in Doral, we know that your kids will love us. Our inflatables are fun for kids of all ages and this is a unique activity that will seem extremely special to them! So the next time you see your child entertaining themselves by pouring syrup on the dog or watching hours of their favorite cartoon, be sure to bring them to our indoor playground instead. Not only will you have less of a mess to clean up, but you can help them stay active and burn some of that built up energy! We promise you won't regret it. Contact us to learn more and stop by today.